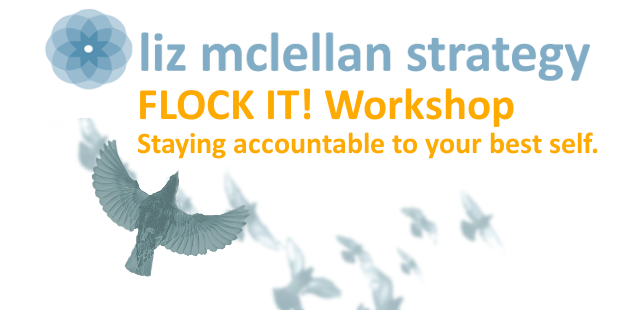 Flock It - Together We Can Go Far
Flock It workshops bring a small group of people with similar goals and needs together to meet once a week to keep ourselves clear on our project goals, reflect our best intentions back to each other and get feedback from a set of peers committed to personal and professional growth. 
The purpose of this short confidential survey is to get a sense of your project, your interests and goals, your resources and where you most need assistance. This survey also takes your temperature to explore with you your readiness to get and GIVE support to your peers. Please answer honestly and think about your resources and time commitment.                                                                                          
A Flock It Workshop is not a passive process. You will be expected to show up with assignments done - ready to engage with your peers - with clear intention, thoughtful responses and compassionate hearts.   Please allow 15+ minutes for the survey.                                                                                                                                        If this process sounds like a good fit for you - let's begin.            
Are you ready?
Yes!